Simulation
We can create 3-D figure based on the drawing issued by customer and analyze casting simulation.
Thereby, we can shorten the trial production time and plan to reduce defective measure and there is an effect also in reduction of manufacture cost.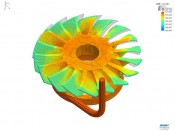 Melting flow analysis

The melting flow at time of casting is visualized, and distribution of the temperature, speed, and pressure in a filling process is understood.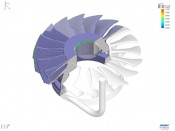 Defective analysis

The defective position in a solidification process is pinpointed and it is useful in the planning of oountermeasure.